Textile industry gritty to double the exports in next 5 years
Researchers find that the developing countries are rapidly growing their shares of manufactured trade, not just in labour-intensive products, but also in capital and skill-intensive ones; their shares are growing chiefly and rapidly in the high-technology area. However, manufactured exports remain highly concentrated in the developing world, with a few states dominating all forms of export. They have also recorded that within the winning exporting states, there are significant differences in the 'technology content' of exports. These trends are tough to show with received trade theory, even taking human capital into account, or with reference to wide economic strategies: it is helpful to bring in 'learning', along with scale economies, rising returns, and agglomeration as determinants of comparative advantage. It is also recorded that these factors imply market failures, and so a role for strategy in developing real comparative advantages.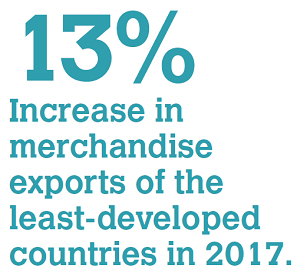 On the other hand, the Government of Pakistan has been focusing on the export for attaining the economic prosperity. According to the provisional statistics compiled by (PBS) Pakistan Bureau of Statistics, exports from Pakistan during December, 2018 amounted to Rs287,798 million (provisional) as compared to Rs246,015 million (provisional) during November, 2018 and Rs214,352 million in December, 2017, explaining a rise of 16.98 percent over November, 2018 and of 34.26 percent over December, 2017. The government officials also registered that in terms of US dollars the exports during December, 2018 was $2,080 million (provisional) as against to $1,843 million (provisional) in November, 2018 explaining a rise of 12.86 percent and by 5.48 percent as against to $1,972 million during December, 2017. PBS also recorded that main products/commodities of exports during December, 2018 were knitwear (Rs36,037 million), readymade garments (Rs32,954 million), bedwear (Rs26,725 million), cotton cloth (Rs23,837 million), rice others (Rs22,253 million), cotton yarn (Rs10,485 million), fruits (Rs9,940 million), towels (Rs8,811 million), madeup articles excl. towels & bedwear (Rs8,345 million) and rice basmati (Rs7,470 million). Furthermore, exports in July-December, 2018 worth Rs1,450,832 million (provisional) as compared to Rs1,162,959 million during the same period of previous year explaining a rise of 24.75 percent. In terms of US dollars the exports during July–December, 2018 worth $11,216 million (provisional) as compared to $10,976 million during the same period of previous year explaining a rise of 2.19 percent.
Pakistan's Ministry of Finance also registered that during previous few years, country's exports registered a pessimistic growth. The major causes for falling of exports was attributed to a worldwide slowdown in demand but now the international economy is on the track of recovery. The government statistics also showed that Pakistan's exports are also on the growing trend and the negative growth is bottoming out as in FY2017 the exports fell by only 1.76 percent as against to negative growth of 12.2 percent a year early. Exports registered a double digit growth after a long period of 7-years. The growing exports can be attributed to a number of measures, proclaimed by the government like export package of Rs180 billion, improvement in the energy supply (import of LNG) and significant recovery in the international commodity prices. It is also registered that Pakistan would also take advantage from the price competitiveness against its competitors, Thailand, Vietnam etc. As Indian rice has lost its market in European countries because of excessive pesticide residue, Pakistani rice exporters has the opportunity to capture EU market. A remarkable rise of non-basmati rice exports came from Bangladesh, as floods in Bangladesh has damaged domestic crops and led domestic prices to reach record high. The other significant component of food group which recorded impressive growth includes oilseeds, nuts & kernals and vegetables, tobacco, fish and fish preparations and sugar. Because of surplus production of sugar, the government has lifted the export ban and proclaimed a subsidy which led to US$278.8 million of sugar exports. However, exports of fruits, meat and meat preparations, spices and wheat posted a fall during first eight months of FY2018 financial year. The All Pakistan Textile Mills Association (APTMA) has presently recorded that the textile industry is determined to double exports in next 5-year with the investment of $7 billion, which will create another 1.5 million jobs.