PM Imran Khan introduces Kisan Card
Realising the potential of agriculture and taking cognizance of the issues related to agriculture sector, the PM Imran Khan has said that the government's historic initiative of Kisan Card would transform the agriculture sector in Pakistan, making farmers prosperous. Addressing the distribution ceremony of the first phase of Kisan Cards to offer agriculture loans for farmers in Multan, Imran Khan said the step would assist eradicate poverty of around 5.0 million farmers in Pakistan. Giving strength to farmers means making Pakistan strong, Imran Khan said, adding that the government is firm to bring an optimistic transformation in the lives of farmers.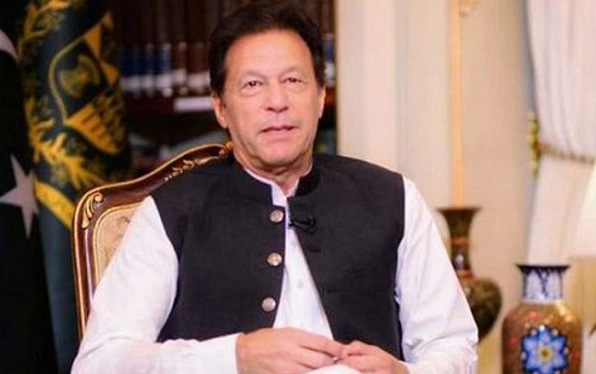 Imran Khan also said that the farmers, by this card, will get subsidised fertilizers, seeds and pesticides, besides low-interest loans and compensation for damaged crops in case of any natural calamity. PM expressed confidence that the Kisan Card scheme will bring about a revolution in Pakistan through making the life of farmers easy through use of technology, improving agricultural production and saving foreign exchange. He said that it will also contribute to poverty reduction mainly in rural regions.
Imran Khan said the present government has been working on various programmes for agricultural development in Pakistan. PM said that a Rs300 billion transformation plan has already been proclaimed for the purpose. The Prime Minister Imran Khan said in 11addition to two main dams, small dams are also being constructed to ensure better water supply for crops. He said the irrigation system is also being enhanced. He said that agriculture has been made part of the China-Pakistan Economic Corridor (CPEC) project for improving agricultural production by use of Chinese technology. He said that seed research institutions are being revamped, and attempts are underway for local production of pulses, edible oil and soybean. Imran Khan said that farmers will be trained to increase agricultural production. He said Rs 40 billion have been allocated to grow production of milk in the country. For reducing losses of vegetables, fruits and grains; storages and food processing plants will be established. PM Imran said the government plans to take steps to significantly improve production of various agricultural products, counting wheat, rice, corn, pulses, fruits, vegetables and fisheries. He said that he himself will supervise the work on the plan aimed at developing the agriculture sector in Pakistan.
Imran said through agriculture reforms, the government of Pakistan had diverted Rs 1,100 billion additional money to farmers and mentioned Rs 500 support price on wheat in 2-year. He announced a rise in subsidy on DAP from Rs500 to Rs1,000 under Kisan Card. He said Pakistan's 12 climatic zones and temperature range between 15-38 degree Celsius offer appropriate conditions for crop diversity. The earlier imported commodities, including pulses, oil seeds, soya bean and Ispaghol (psyllium husk), would now be grown locally, he added. On livestock, he said Rs40 billion have been allocated for projects, counting import of semen to enhance cattle breed and grow of milk production. With export of cheese and milk, Pakistan can earn up to $25 billion. He said loss of perishable fruit and vegetables would be overcome through establishing storage houses and food processing plants. He said the government is pursuing the target to double the cereal production including wheat, corn and barley and take steps to cut the imports.
No doubt, Pakistan is a leading country in the production of wheat, cotton, rice, sugarcane, lentils, mangoes and milk and fourth largest producer of milk. Presently Pakistan-China agriculture cooperation is vital and would strengthen the economy of Pakistan. Statistics showed that agriculture contributes greater than 80 percent to Pakistan's GDP and offers greater than 30 percent of the national labour force. It is said that recently China has adopted its 14th five-year plan for 2021 to 2025 in which the field of modern agriculture has given high value. Furthermore, in Pakistan, agriculture is still the largest sector of the economy of Pakistan in terms of labour participation and as such livelihood of the majority of the population directly or indirectly depends on it. Being the sector engaging the largest workforce and providing raw material to most manufacturing sector, its development not only contributes towards achieving poverty alleviation but can also uplift socio-economic structure of a major segment of the population. During FY2020, the performance of agriculture sector improved over the last year and it also performed better than other sectors. Performance of Kharif crops recorded in the Economic survey of Pakistan FY2020; Rice production grew by 2.9 percent to 7.410 million tons and Maize production by 6.0 percent to 7.236 million tons while Cotton production fell by 6.9 percent to 9.178 million bales and Sugarcane production fell by 0.4 percent to 66.880 million tons. Wheat is the most significant crop of Rabi, which showed growth of 2.5 percent and stood to 24.946 million tons. Other crops having a share of 11.53 percent in agriculture value addition and 2.23 percent in GDP, showed growth of 4.57 percent mainly because of rise in production of pulses, oilseeds and vegetables. Cotton ginning fell by 4.61 percent because of decline in production of cotton crop. Thus, the crops sector, overall, experienced a growth of 2.98 percent because of rise in growth of important crops by 2.90 percent mostly because of sufficient availability of inputs despite lower fertilizer off-take.