Russia's losing bet on China in a post-covid world
Russia's economy made out better than expected during the crisis last year. Aggregate GDP only dropped in the range of 3.5-4 percent despite worse forecasts. The Kremlin made do with relatively limited crisis spending measures, betting on China and other economies to recover quickly enough to isolate the economic damage instead. Although oil and natural gas – still Russia's primary exports – took a shellacking until the last few months of the year, Moscow lucked out: A broad range of non-oil and gas commodities including gold entered a bull market by summer, aided by a $500 billion fiscal stimulus package in May from China.
China's spending was geared toward investment and businesses, many of which produce goods for export or build homes and infrastructure. While economies the world over including Russia struggled with multiple waves of infections, lockdowns, and constraints on services demand, China's exports of goods surged to record levels by December – a surplus of $78 billion in December alone. Ironically, it was the under-development of small and medium-sized businesses and services in the Russian economy that spared the Russian policymakers a much steeper price tag in stimulus spending.
The good news, however, stops there.
For the past decade, China has done more than any other economy to sustain Russia's oil export earnings and thus its economic model – China alone accounted for just over half of the growth of global oil demand between 2008 and 2019. China's consumer recovery has lagged behind that of its industrial recovery from the worst of the crisis, and while the economy is finally approaching balance, it's still locked into a structurally slowing growth rate.
Vietnam's economic growth on track
Vietnam has reiterated its commitment to high economic growth following the conclusion of the National Party Congress in Hanoi where it chose its leaders for the next five years.
Vietnam's ruling Communist Party approved plans to raise growth to 6.5 to 7 percent for the 2021-2025 period as it aggressively pushes for reforms and high-tech economy growth.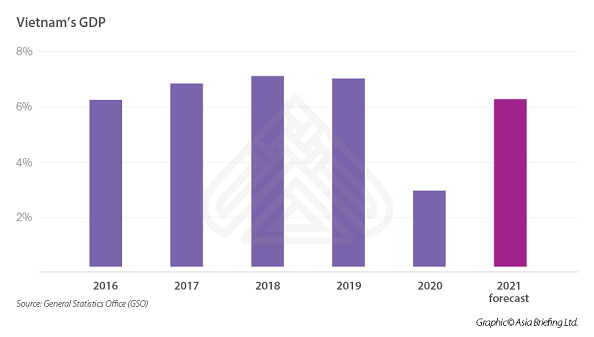 Vietnam is set to become more selective in attracting FDI as it wants to move up the value chain from a low-cost labor destination to a center for hi-tech industry keeping the environment in mind.
The government also aims to diversify its export markets taking advantage of its several signed free trade agreements.
Vietnam's 13th Communist Party of Vietnam Central Committee reelected Nguyen Phu Trong as the General Secretary. Trong is known for his anti-corruption stance and has endorsed Vietnam's continued integration into the global economy. These policies are expected to continue and as such underlines Vietnam's stable political environment which businesses have been drawn to.
Pak-China business matching in Buffalo industry held boosting investment
The first business matchmaking event between Chinese and Pakistani enterprises in the Buffalo industry was held by the Pakistan-China Agriculture Cooperation Information Platform, that was established last month aiming to break information barriers between agricultural enterprises of the both sides and enhance pragmatic cooperation.
According to China Economic Net (CEN), gathering representatives from Chinese and Pakistani leading companies and institutes engaging in the Buffalo industry, the virtual meeting has discussed the feasibility of technological cooperation in developing Buffalo embryos to create high-yield type of Buffalo and the possibility of business cooperation in the production of Buffalo milk, powder, meat and other value-added products that could shore up Pakistan's export.
"Can we import buffaloes from Pakistan?" That's the first question asked by Lu Yangqing, Deputy Dean of College of Animal Science and Technology, Guangxi University.Pakistan's Neeli-Ravi buffalo is one of the world's famous river milk buffalo varieties, known as "black gold ".
A Chinese expert in diary Wang Dingmian once introduced in a report that the milk production of domestic dairy cow in China is relatively low, with an annual output of about 600 to 800 kg per cow, while the annual milk production of Pakistan's Neeli-Ravi buffalo is about 1.5 tons per one.
Paypal is shutting down domestic payments business in India
PayPal is shutting down its domestic business in India, less than four years after the American giant kickstarted local operations in the world's second-largest internet market.
"From 1 April 2021, we will focus all our attention on enabling more international sales for Indian businesses, and shift focus away from our domestic products in India. This means we will no longer offer domestic payment services within India from 1 April," said a company spokesperson.
In a long statement, PayPal said its priorities had shifted in India, but did not elaborate why it was winding down the business. A report recently said the company, which has amassed over 360,000 merchants in the country, was struggling to make inroads in India.
Indian news outlet The Morning Context reported in December that PayPal was abandoning its local payments business in India, a claim the company had refuted at the time.
"With the shift in priorities, some PayPal employees have been reassigned to new teams. Our focus is to always minimize the impact on our people whenever possible. Overall, our workforce is growing in India, not reducing. We are currently recruiting across our sites in India in large numbers," a spokesperson told TechCrunch.
Nonetheless, the move comes as a surprise. The company said last year that it was building a payments service powered by India's UPI railroad, suggesting an increase in the level of investments it was making in the country.
Tesla tells nickel-rich Indonesia it wants to join battery project
U.S. electric vehicle maker Tesla has proposed joining Indonesia's plans to create an EV battery supply chain within the country, a senior Indonesian government official said on Friday.
The government received Tesla's proposal on Thursday, Septian Hari Seto, deputy for investment and mining at the Coordinating Ministry of Maritime Affairs and Investment, said in a news briefing on Friday.
The nickel-rich country is already in talks with China's Contemporary Amperex Technology, better known as CATL, and South Korea's LG Chem regarding the plans to create its own EV battery supply chain covering the whole breadth from upstream to downstream.
"We are very excited because this Tesla lithium battery technology is among the best in the world," Seto said. "If we have investment from CATL, LG … plus Tesla, we can learn a lot from here. Because what we ask is a transfer of technology. This is an opportunity to collaborate with three world-class companies with advanced lithium battery technology."
The deputy said there is "potential for cooperation over energy storage system[s]" with Tesla, such as "power banks of up to tens of megawatts with the idea of being able to replace peaking power plants when electricity demand far exceeds average usage."
"We can't allow [Tesla involvement] if they only want to take raw materials. [This proposal] is going beyond just taking raw materials," Seto said.
Bangladesh kicks off countrywide coronavirus vaccination drive
Bangladesh on Sunday launched its nationwide COVID-19 vaccination drive with lawmakers along with top administration and health officials taking the first shots of the vaccine.
Health Minister Zahid Maleque, who inaugurated the campaign at a virtual event at the Directorate General of Health Services (DGHS) here, urged people not to spread propaganda against the vaccine, saying it is safe and has no side effects, Dhaka Tribune newspaper reported.
Lawmakers and top administration and health officials took the first shots of vaccine, the report said.
However, there have been tepid responses from vaccine seekers in the country, it said.
Bangladesh on January 21 received as gift from India two million doses of the AstraZeneca-Oxford University vaccine manufactured under license by the Serum Institute of India.
The first consignment of 50 lakh doses of Covishield purchased by the government landed in Dhaka on January 25.
Bangladesh has so far purchased 30 million doses from the Serum Institute of India through private Beximco pharmaceuticals under a tripartite agreement
Health Minister Maleque said that the government is continuing its fight against the coronavirus and the condition of Bangladesh is now better than many other countries.
Bank of Japan policy hurts sustainable finance
In recent months, the Nikkei stock average recorded its highest levels in 30 years. The remarkable stock performance contrasts with the fragile economic conditions caused by the second state of emergency declaration in Tokyo and nine other prefectures amid the highest number of infections and deaths since the outbreak of the COVID-19 pandemic. The yen's persistent appreciation since the middle of last year is also hurting Japanese firms' foreign profits valued in yen.
Japan's stock prices quickly rebounded after plummeting last March as the pandemic took hold. The major driver is higher U.S. stock prices — driven by excessive liquidity arising from massive monetary easing generated by the U.S. Federal Reserve. The impressive sales performance of large U.S. tech companies and the hope that the start of emergency vaccinations will accelerate the pace of a global economic recovery are also contributing to the stock hike.
In addition, the Bank of Japan's policies have greatly contributed to Japan's stock prices. The bank has expanded the maximum purchase amount of stock exchange-traded funds (ETFs) to ¥12 trillion annually in the face of the COVID-19 pandemic, from the annual pace of about ¥6 trillion. As a result, the central bank has become the largest shareholder in the Japanese stock market, causing market distortions.
Philippine economy shrinks more than expected on weak demand
The Philippine economy contracted more than economists expected in the fourth quarter, capping its worst year on record, as private consumption remained anemic even as more businesses reopened from lockdowns.
Gross domestic product shrank 8.3 percent in the three months through December from a year earlier, the statistics agency said Thursday. That compared with the median estimate for a 7.9 percent decline in a Bloomberg survey and the third quarter's revised 11.4 percent contraction.
For all of 2020, GDP plunged 9.5 percent as economists expected, the largest drop in government data going back to 1946. Still, the quarterly figures indicate the decline has moderated from the early months of the outbreak.
"Without doubt, the pandemic and its adverse economic impact are testing the economy," Economic Planning Secretary Karl Chua said. However, the government sees "green shoots of recovery" with the gradual easing of restrictions on movement.
Stocks recouped early losses and were up 0.2 percent as of 12:45 p.m. in Manila. The peso was little changed.
The Philippines was among the world's fastest-growing economies over the past decade, but is now struggling to escape recession, with analysts expecting growth to turn positive only in the second quarter.
The World Bank forecasts Philippine GDP to expand 5.9 percent this year, below pre-pandemic levels, as restrictions on movement remain amid Southeast Asia's second-worst virus outbreak.