Most inspiring leader of all time
Martin Luther King Jr.
It is said that very few Americans are as celebrated as Martin Luther King Jr., (MLK) the Baptist minister and social activist who led in the United State the Civil Rights Movement until his tragic death during 1968.
As an African-American born in the rural south during 1929, MLK faced an uphill battle all his life. Growing up in Atlanta, Georgia, the young Martin was considered a precocious student who paid little attention to his studies and found great discomfort in religion.
That all started to change in his junior year, when he took a Bible class and renewed his faith. By 1948, Martin had earned a degree from Morehouse College before moving on to the Crozer Theological Seminary in Pennsylvania. It was at Morehouse College that MLK opened his eyes to racial inequality.
Following years of successful civil rights activism, MLK and 61 other activists founded the Southern Christian Leadership Conference during 1957.
Two years later, Martin visited Mahatma Gandhi's birthplace in India, which emboldened him to continue down the path of peaceful activism. On August 28, 1963, MLK would leave his mark on American history by delivery the famous "I Have a Dream" speech during the March on Washington for Jobs and Freedom. King had such a profound impact on American race relations that his attempts resulted in the passage of the Civil Rights Act of 1964, which authorized the federal government to desegregate public accommodations. The same year, MLK received the Nobel Peace Prize.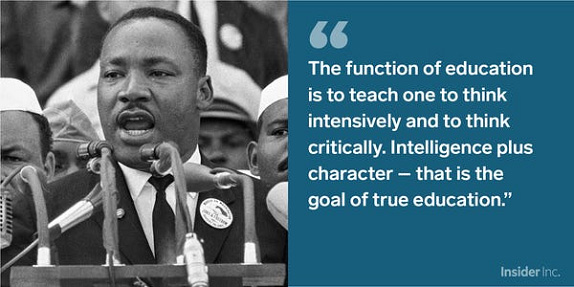 Martin would continue his activism until his assassination on April 4, 1968. King's assassination was a tragic end to a remarkable life that had a seismic impact on an entire nation. MLK gave his life to the civil rights movement. Nearly 50 years after his death, his legacy is stronger than ever. The third Monday of every January is Martin Luther King Jr. Day, an observed federal holiday in the United States.