It is important that we emphasize how this year's 11.11 sale is different and as cliché as it sounds, it is actually bigger and better than ever before. There are 15 million products on which customers can avail up to Rs. 50 Crore worth of discounts. There are over 30,000 sellers and authentic brands that have released staggering discounts for our customers. Here is an interesting Q&A session with Imran Saleem, Director Commercial Daraz Pakistan, who highlights the significance of Daraz 11.11!
1- What are the major deals to avail for the customers from Daraz 11.11 and the brands that are offering it?
This 11.11 we have a lot in store for our customers. There are 1000+ mega deals from multiple brands, both local and international. We also have exclusive phone launches on Daraz for our customers. These phones include Realme 7 Pro, Oneplus N100, Nokia 3.4, Vivo v20 SE, Oppo f17 and Infinix Zero 8.
Apart from these exclusive launches we have huge category discounts being offered. Mobile and tablets are up to 50% off, TV and home appliances are up to 55% off and both Men's and Women's fashion are up to 60% off. It really has to be seen to be believed.
Customers can stockpile their everyday essentials by availing discounts up to 30% off on P&G products, up to 80% off on Unilever products, up to 67% off on RB products and availing the exclusive bundles being offered by Nestlé.
Whether you are looking to make a big ticket purchase, or you are an impulsive shopper looking to splurge, or a busy mom looking to stock up on pantry items, there is something for everyone. And more.
2- How customers can shop safe and secure without falling victim to fraud at Daraz 11.11 mega shopping sale?
While shopping online, I want to emphasize the importance of doing some research before placing an order. Pay attention to store ratings, product ratings and image reviews. This will help you to come to an informed decision when deciding on what to buy. Additionally, one can also converse with the seller through instant messaging to clear out any doubts they may have over the nature/size/specs of the product. In case of any post-purchase mishaps, we have a generous return policy of 7 days for marketplace items and 14 days for DarazMall products. This means for any products that you receive that you feel is not as advertised, you can simply log a return for a full refund. What's more is we will come and pick it up from your place if you reside in Karachi, Lahore or Islamabad.
3- Which of the banks are offering exclusive discounts and on which products under Daraz 11.11 shopping festival?
We have partnered with practically all of the largest banks operating in the country to bring even more discounts on products already on sale. Our payment partners – HBL, Easypaisa, Faysal Bank, Daraz Wallet, MCB, Meezan Bank, Standard Chartered, Bank Alfalah, Askari Bank, Silk Bank and Allied Bank – have offered discounts up to 15% off for our customers making digital payments.
Additionally, HBL customers can avail HBL exclusive mega deals and mega vouchers that offer upto PKR 25,000 off on their purchases!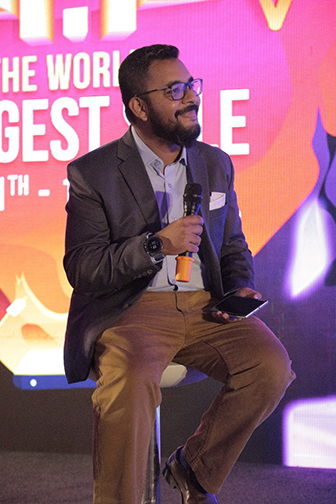 4- How Daraz's Easy Monthly Installment Plan (EMI) works and what is the minimum amount on which EMI is applicable at Daraz 11.11 shopping festival?
To make the purchase decision even easier for our customers, five of our payment partners – Bank Alfalah, Standard Chartered, Silk Bank, MCB and UBL – are offering Easy Monthly Installments starting with a 0% markup and a tenure of up to 18 months.
Customers simply have to add a product of a minimum value of PKR 10,000 in the cart and select the installment option at checkout.
5- How customers can play and win exciting prizes at Daraz 11.11 mega shopping festival? What is on the list of these prizes?
Along with offering great deals and discounts, we take a lot of joy in providing a full shopping experience to our customers. There are many games that customers can play to win exciting gifts and vouchers. People can play the One Rupee game to win certain products being offered for only one rupee. Similarly, customers can play Mission 11.11 and enter in a chance to win a fully paid trip to Turkey for two.
In the mood for multi-player gaming tournament? Head over to Daraz First Games and play several different titles against yourself or other players from all over the region.
Come over, explore the app, look around, play a game or two and avail some of the best deals available in the country today! Happy Shopping!